---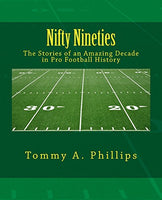 Author: Phillips, Tommy
Edition: 2
Binding: Kindle Edition
Format: Kindle eBook
Number Of Pages: 717
Release Date: 01-02-2018
Details: We all have fond memories of the nineties, and even fonder memories of the pro football played during the decade. The NFL in the nineties had it all: Steve Young's pinpoint accuracy, Brett Favre's rocket arm, Emmitt Smith's ball-carrying vision, Jerry Rice's soft hands, and Bruce Smith's thunderous tackles. This book covers nineties football tighter than coverage by Deion Sanders, with all the spice of a Barry Sanders run!

This book includes full-blown play-by-play coverage of 150 games, including every single playoff game during the nineties, from kickoff to the final gun. It also includes year-by-year stories from 1990 to 1999, rankings of the greatest players and teams, and a look at television coverage at the time. It even includes five life lessons I've learned from watching nineties football.

You won't find a more comprehensive book on the nineties anywhere. From Emmitt Smith and Jerry Rice, to Reggie White and Bruce Smith, to Steve Tasker and Travis Jervey, this book covers the whole field. Whether you want to read about the Cowboys' Super Bowls, or just the Browns' lone playoff win, this book has you covered. There is something in this book for fans of all 32 NFL teams.
Languages: English