---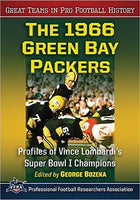 Please Note.  To purchase this book, you'll have to go to the McFarland (publisher) website.  Below is more information (from McFarland's site).
PURCHASE BOOK AT MCFARLAND WEBSITE
ABOUT THE BOOK:
The 1966 Green Bay Packers were one of the greatest teams in professional football history. Led by legendary head coach Vince Lombardi and 10 future Hall of Famers—including Bart Starr, Jim Taylor, Forrest Gregg, Willie Davis and Ray Nitschke—they were the decisive winners of Super Bowl I, defeating the Kansas City Chiefs and upholding the superiority of the National Football League over the upstart American Football League. This book tells the story of the hard-working '66 Packers on the gridiron and their legacy in Titletown, USA.
ABOUT THE AUTHOR:
Retired attorney George Bozeka is the president and assistant publications director of the Professional Football Researchers Association. He has written numerous articles in the association's publication The Coffin Corner and was the recipient of the PFRA's Bob Carroll Memorial Writing Award in 2011 and the Jack Clary Award in 2020. He lives in Akron, Ohio.
BIBLIOGRAPHIC DETAILS:
Edited by George Bozeka
Format: softcover (7 x 10)
Pages: 328
Bibliographic Info: 67 photos, notes, index
Copyright Date: 2016
pISBN: 978-1-4766-6203-9
eISBN: 978-1-4766-2442-6
Imprint: McFarland
Series: Great Teams in Pro Football History