---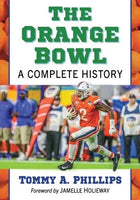 Author: Phillips, Tommy A.
Binding: Paperback
Number Of Pages: 534
Release Date: 07-10-2022
Details: Product Description The Orange Bowl has been played 88 times since 1935. Originating as the small Festival of Palms Bowl, meant to attract tourists to Miami, it has grown into a national football event watched by 16 million people. Beginning with Bucknell's first victory over Miami, this book covers each Bowl in detail, including the first game in Miami Orange Bowl stadium in 1938; Charles Bryant's breaking of the color barrier in 1955; the four national championship games of the 1980s; the move to what is now Hard Rock Stadium in the 1990s; and the new era of the Bowl as a semifinal game in the College Football Playoff. About the Author Tommy A. Phillips is a Penn State alumnus living in Pittsburgh, Pennsylvania.
EAN: 9781476687506
Package Dimensions: 10.0 x 7.0 x 1.1 inches
Languages: english